Switzerland takes solar lighting to new heights
With its high peaks, sheer valleys and snow-covered ski slopes, Switzerland has a growing need for off-grid public lighting. Solar Advance, Fonroche Lighting's exclusive partner in Switzerland, is meeting this burgeoning demand by installing solar streetlights. The company also offers an innovative solution for improving safety and security while retaining flexibility of layout with a range of mobile, eco-friendly off-grid streetlights.
Solar energy across Switzerland
Public lighting in natural environments
While protecting Switzerland's exceptional landscapes is important, ensuring public safety and security is a priority. Fonroche's solar lighting technology guarantees off-grid public lighting 365 nights a year across the entire country. Using clean energy, our solutions bring light to residential areas, business and retail districts, parking lots and all types of outdoor applications.
A highly competitive solution
Experts in public lighting, Solar Advance have developed a mobile solar streetlight for Switzerland. With an innovative anchor system, the streetlight is easy to install, uninstall and move as lighting requirements change, since no grid connection is needed. It's hugely versatile, readily adaptable to all types of terrain and delivers powerful and dependable lighting. For example, it can provide temporary lighting for a cultural event or improve security at a construction site. It also offers flexibility of layout, so a parking lot can be readily expanded without having to extend the power grid.
A hive of eco-responsible companies
In Meyrin-Satigny, just west of Geneva, The Hive campus is leading the way in sustainable architecture. Its ultramodern buildings are home to companies like US giant Hewlett Packard. The Hive has made sustainable development a top priority. And as part of this overarching policy, the parking lots feature solar streetlights from our Smartlight Power 365 range.
Modular layout needed
The project began with a partnership between HIAG Group, developers specializing in industrial real estate, and architecture firm CCHE. The site is constantly evolving, but Solar Advance met the brief perfectly by offering powerful, mobile solar streetlights.
"We're leveraging advanced technologies to rethink how we use the space and adapt the outdoor lighting at the site to meet the new challenges of the energy transition!" – Source: The Hive website.
A dependable, sustainable solution
The Hive campus needed a high-performance lighting solution. Solar guarantees no outages and requires no extensive installation work, so it was the clear choice. This sustainable solution is a perfect fit with the campus's eco-friendly policy. The Hive has set up five clusters at its Ecoparc and hosts almost 3,000 people in six buildings across a site spanning several hectares.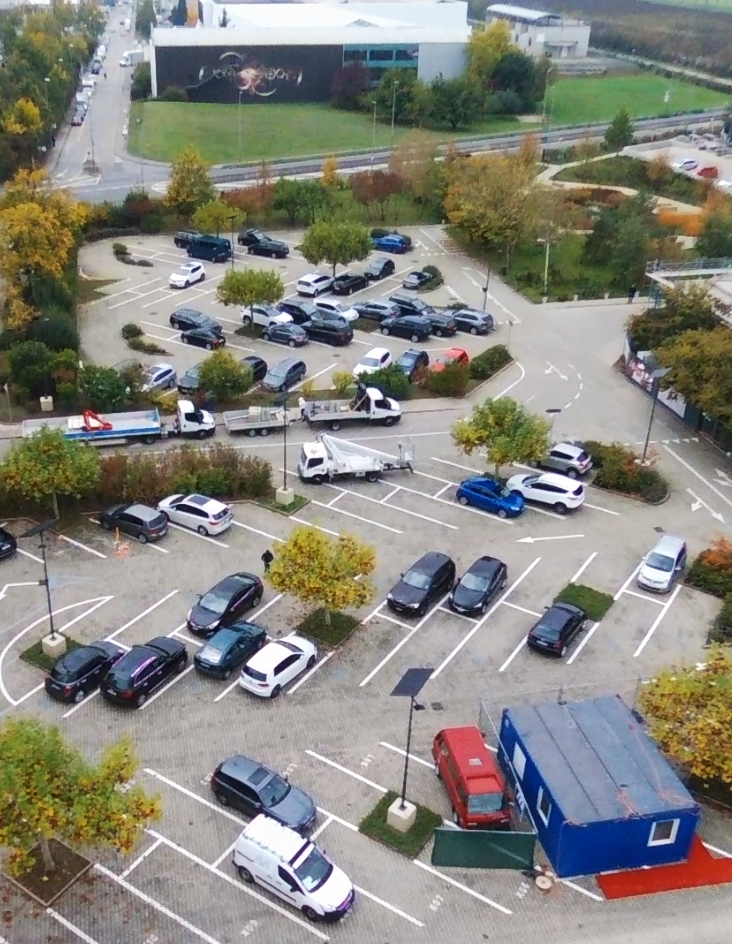 "In Geneva, it's a flagship project on the environment front" says Laurent de Giorgi, CEO of Solar Advance, which represents Fonroche Lighting in Switzerland.
The solar streetlights are manufactured in France, then stored and installed in Switzerland, keeping distribution channels short. They deliver powerful, sustainable lighting as soon as they're installed. "The energy is produced and used in Switzerland — plus it's a European product."
Solar Advanced is building on the positive feedback from this project to become a recognized player in the energy transition and a key partner for solar public lighting in Switzerland.
Sources :