Find our press releases, latest publications and media kits.
A brief description of Fonroche Lighting:
In less than 10 years, Fonroche Lighting has become the world leader in solar street lighting. Located in Agen in the south-west of France, the company designs, develops, manufactures and installs its street lights.
Founded in 2011 by Yann Maus, Fonroche Lighting, a pioneer in solar lighting, is now considered the world's leading expert in the sector, with public lighting projects on all five continents.
Press contact
Hélène Bigey - Head of Communication
Key figures
MILLION PEOPLE LIT UP WORLDWIDE
CITIES EQUIPPED WORLDWIDE
Our latest media releases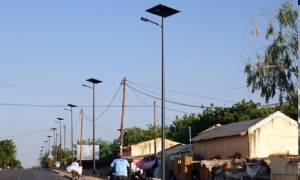 Led's Magazine- 24/10/2019
Fonroche Lighting, the European solar lighting leader comes to South Africa