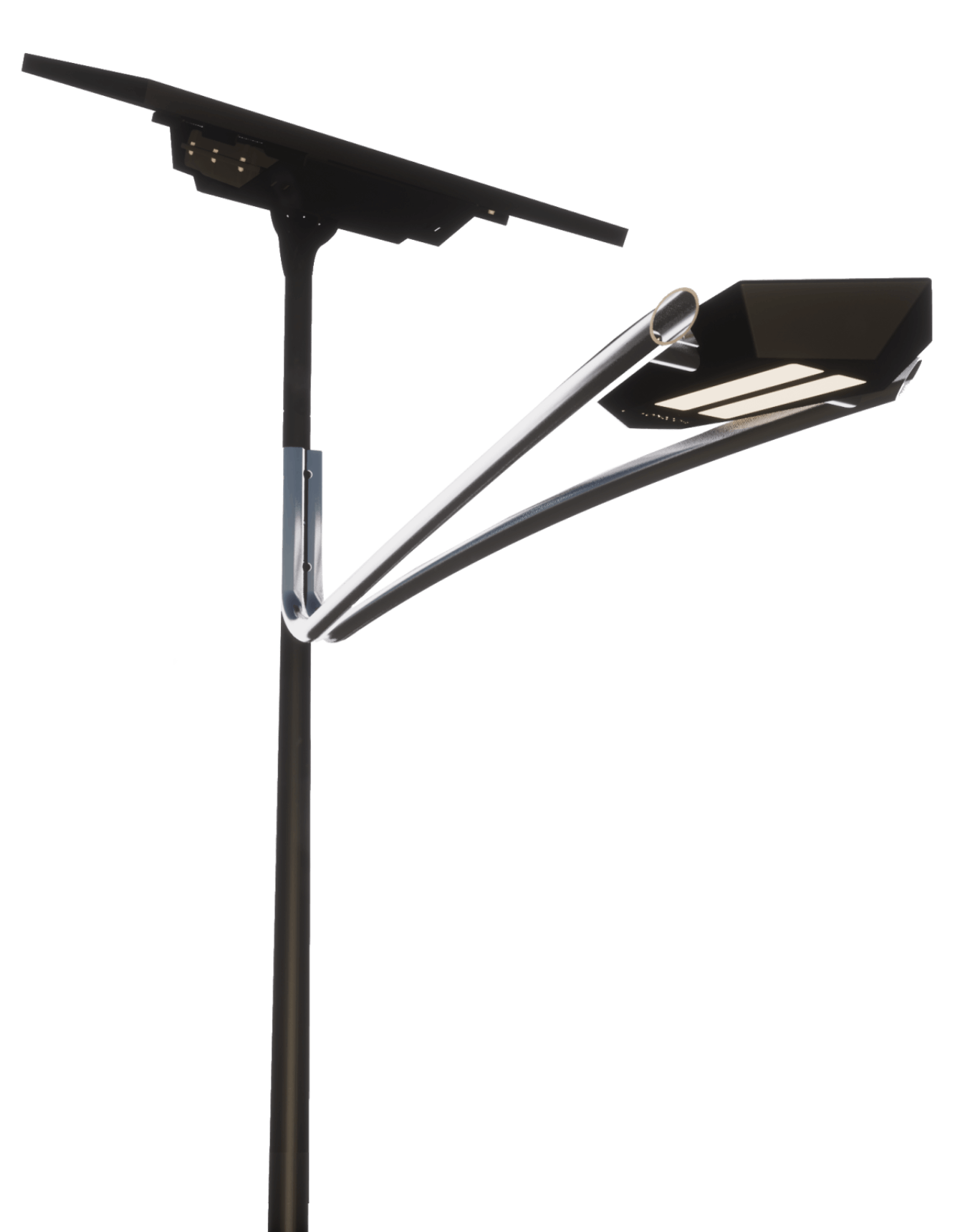 Composed of a highly efficient photovoltaic panel, a smart storing system and the latest LED light, the Smartlight solar street light is the most powerful on the market.  We make sure these components work in harmony to reach efficiency in terms of: 
Power

Durability

Robustness 
The Smartlight street light is the solution to permanently light up all types of structures and to guarantee safety for users, without being dependent on the increase in the cost of energy.
With Fonroche, each project is unique; our street lights are customisable and optimised to meet the needs of your project:
Mast height (4 to 10m)

Single-headed or double-headed

Ancillary lights

Light design, etc.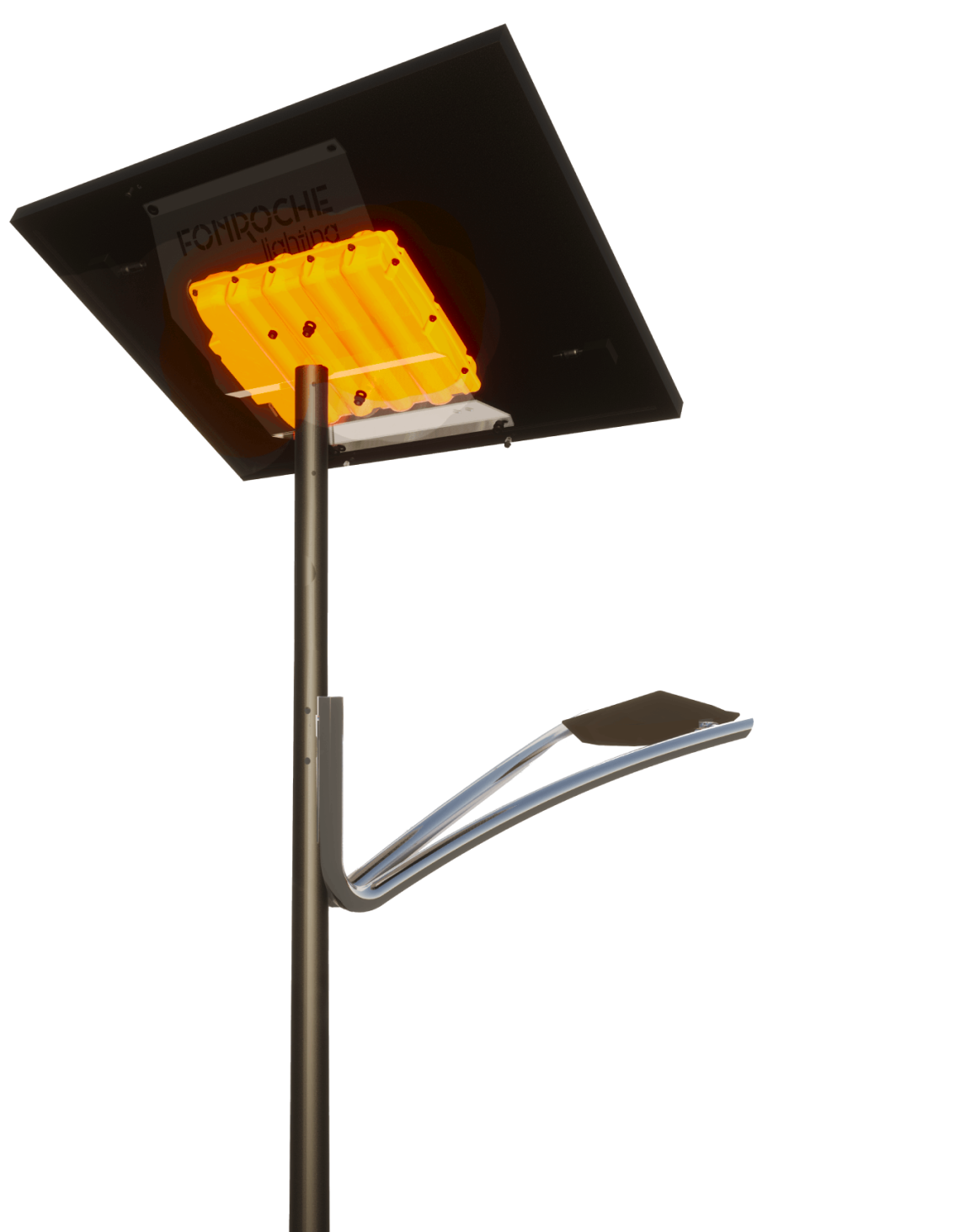 The Fonroche Lighting solar street lights are all equipped with Power 365 technology which is developed by our R&D teams. To guarantee their safety, the street lights have a NiMH battery and a smart programmable system, located under the panel at the top of the mast.
Nickel storage (NiMH): 
Robust and long lasting design

Long lifespan

Withstands all climates

Light and compact
Easy to recycle: NiMH batteries are recycled very easily and enable the creation of a positive value through the recycling of Nickel-Iron which can be used to make steel, for example.
Smart system
Smart energy management for storage optimisation

Programmable operating ranges

Anti-black-out safety feature: no power cuts
Certifications : CE – FCC – EN 55015 – EN 61000
Lifetime of 4000 cycles minimum or 10 to 12 years
Operating temperature -40°C / + 70°C
From 312 Wh to 1248 Wh
5 to 10 years warranty
365 nights of lighting per year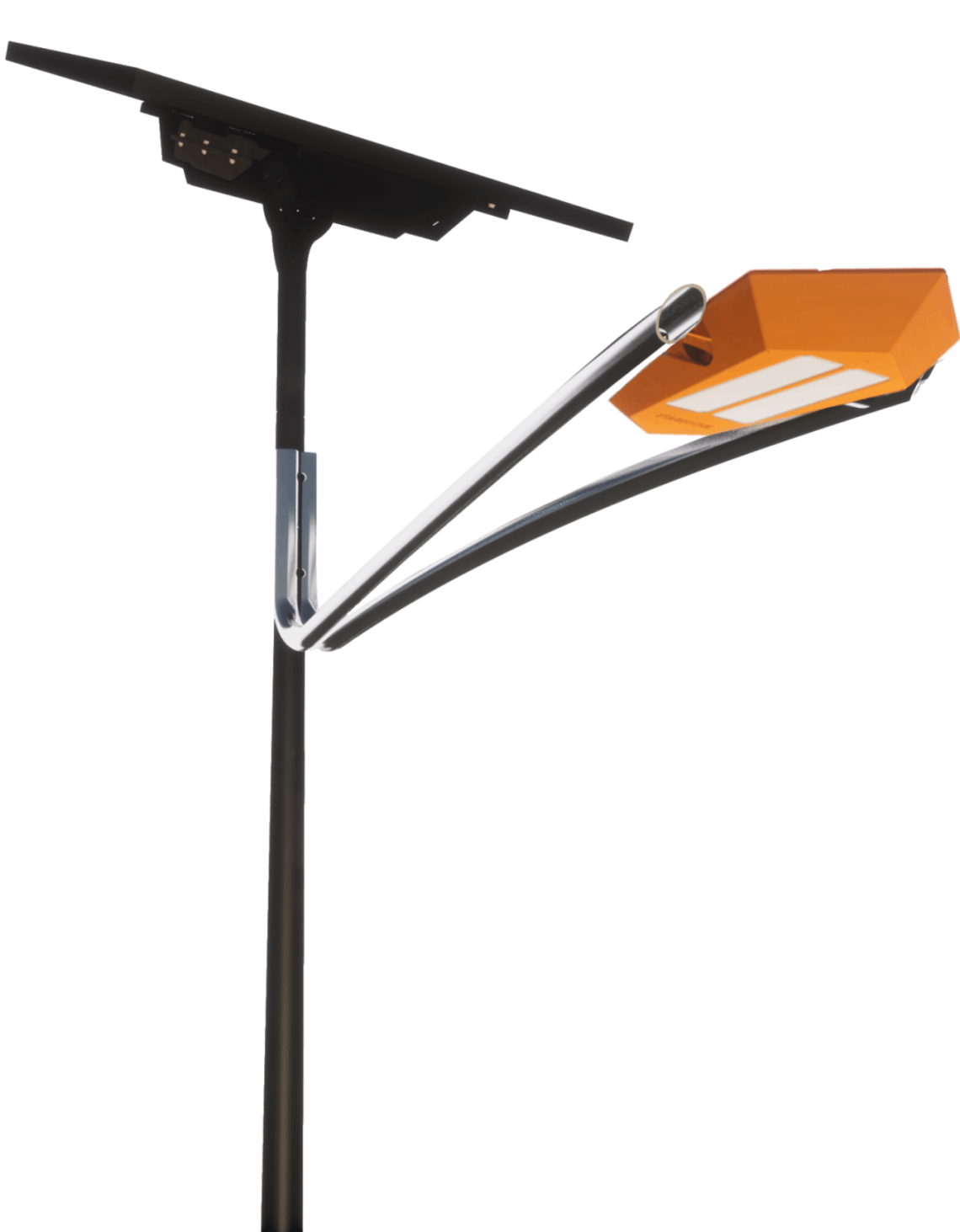 We have developed lights equipped with the latest LEDs baosting the highest efficiency in the market.
Having undergone an advanced study, the excellent thermal dissipation of modules ensures better light efficiency.
Fonroche Lighting offers several lighting profiles to optimise the number of street lights for each project and offer the right lighting in the right place.
Certifications : CE - ENEC - IEC 60598 – IEC 62471 – IEC 62031 – IEC 62471 – IEC 62493 – IEC 61347
Lighting performance greater than 190 Lm/W
2700K - 3000K - 4000K
Low energy consumption
From 40 to 80 Watt nominal
Integrated heat dissipation
Minimum 20-year lifespan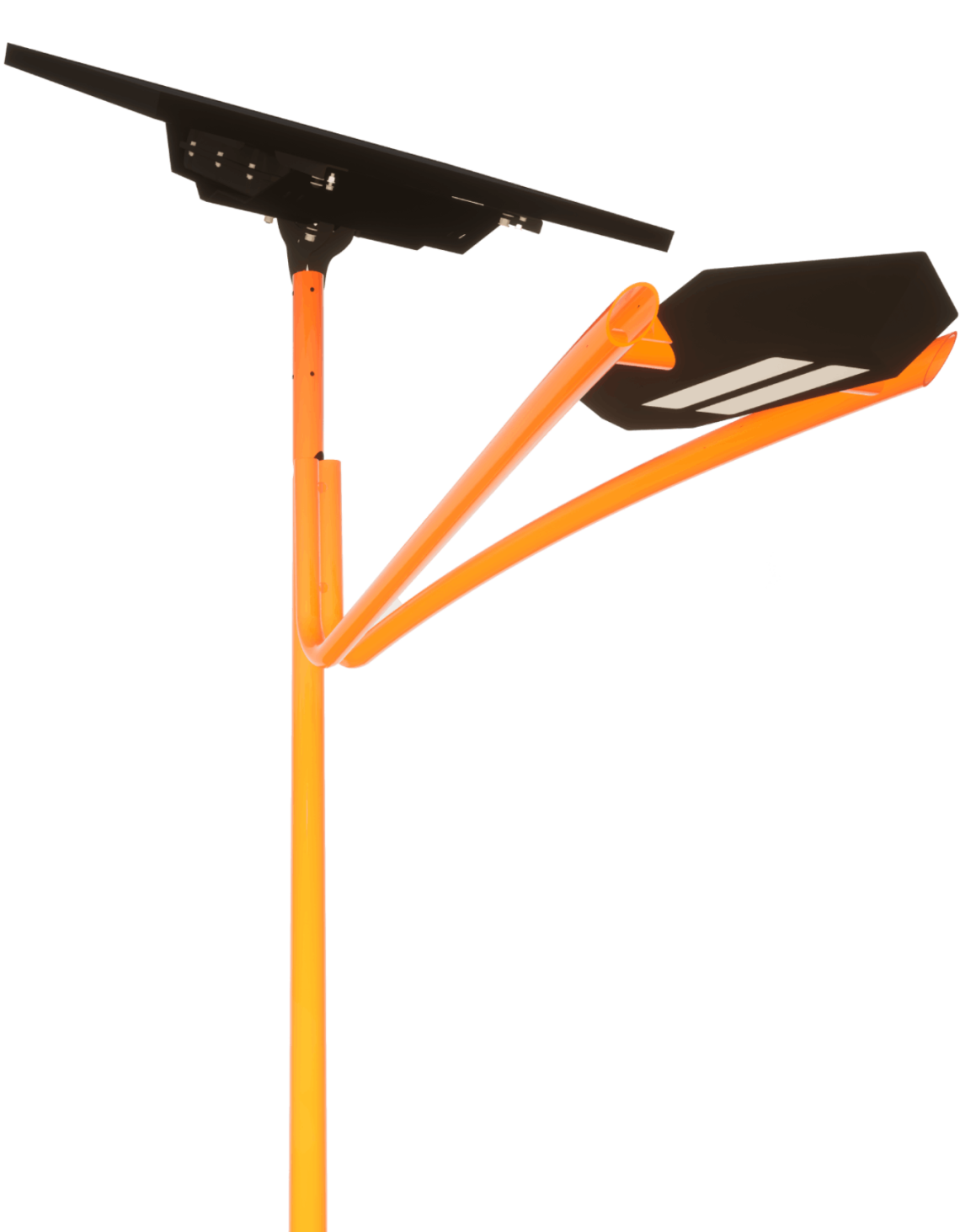 Our autonomous street light adapts to all applications. The mechanical stability of the street light is essential. To overcome this challenge, our mechanical hub ensures an optimised design of the items while respecting applicable standards. The Fonroche masts and heads, made of thermo-coated galvanised steel, are customisable for your project (wood, RAL colours etc.)
All our street lights conform to EN40 standards regarding wind resistance.
Powder coated galvanized steel
EN40 standards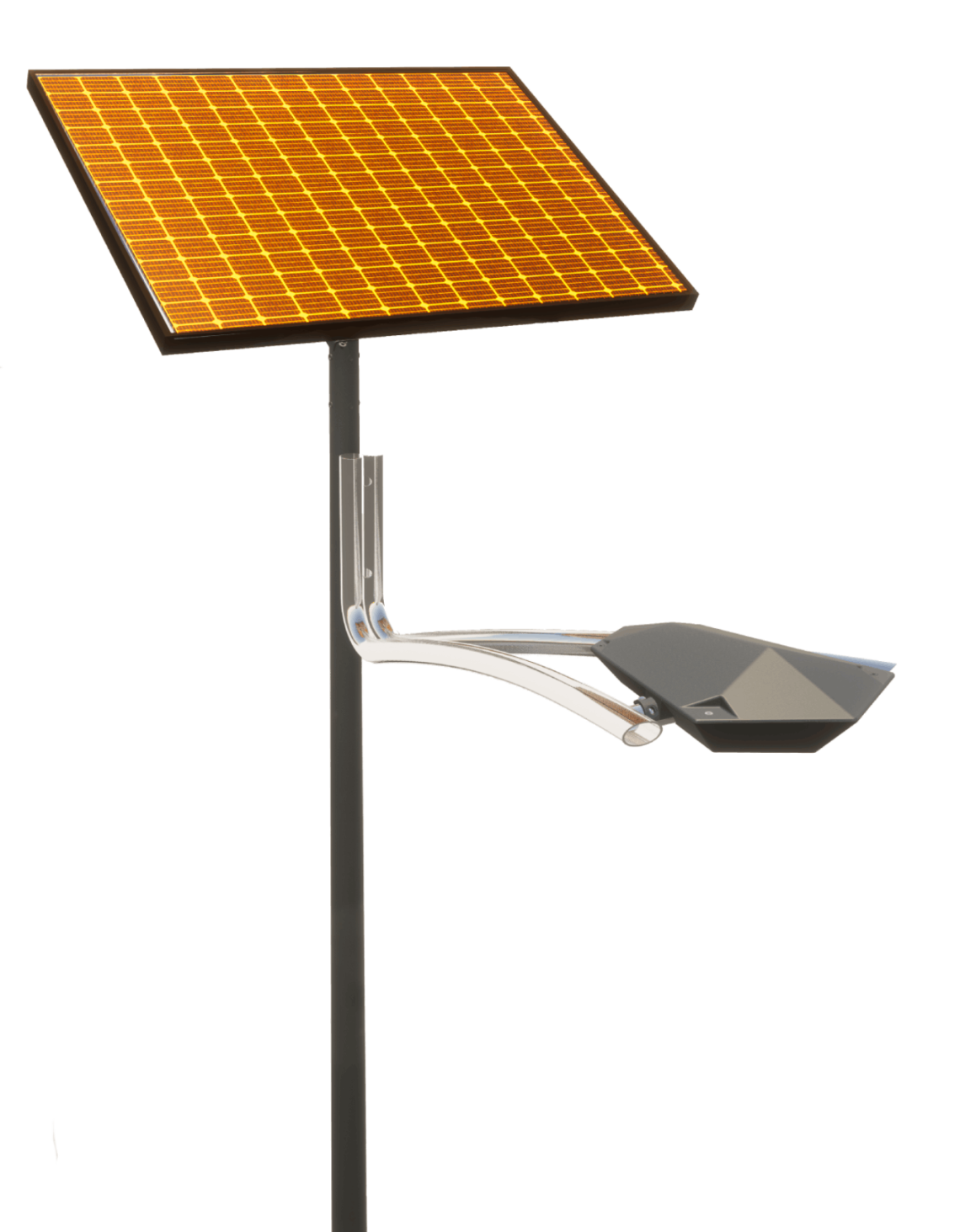 The photovoltaic panel is located on top of the mast. Its role is to capture sunlight in order to create energy. This energy is then stored in the battery and supplies the LED light when night falls.
The panels chosen by Fonroche Lighting meet the strict industrial requirements to guarantee optimal performance. The dimension of the panel is an essential criterion for the guarantee of high power. The photovoltaic panels, which are made of poly- or monocrystalline cells and equipped with Smartlight solar masts :
are made of very high yield modules

are equipped with an optimal light-capturing feature which is adapted to all weathers, including low sunlight.

have an optimal lifespan of over 30 years
Certifications : IEC 61215 - IEC 61730
From 125 Wc to 350 Wc
Cell type: PERC silicon
360° rotation independently of the LED light