Fonroche Lighting has established itself as a world leader in solar lighting, thanks to its breakthrough technology and the quality, performance, durability and competitiveness of its products. In 2015, Fonroche Lighting developed POWER365 technology, a smart and programmable energy storage and management system that guarantees 365 nights of lighting per year, anywhere in the world.
What is POWER365 technology?
Innovation has always been at the heart of our strategies. In order to guarantee the power and autonomy of our solar streetlights, we have developed our own NiMH storage system, specially designed for autonomous street lights in the Smartlight range.
POWER365 is not just a battery, but a cutting-edge technology. Developed by Fonroche Lighting's R&D teams, it has been equipping our lighting solutions since 2015.
This technology aims to create a breakthrough by creating the first smart storage and management system, specially developed for autonomous solar lighting, which guarantees lighting 365 nights a year. 
Equipped with a custom-developed BMS (Battery Management System), the POWER365 system ensures optimum performance when charging/discharging the storage system, as well as resistance to extreme temperatures (-40°C to +70°C). 
A resistance to any proof
NiMH, the chosen battery technology, is both robust and long-lasting and has the best resistance in terms of charge temperature and life span:
Resistant to temperature extremes

Long service life (4,000 cycles or 10-12 years)

NiMH, a proven technology (since 1990)

Easy to recycle (for example, creating positive value by recovering nickel-iron used in steel-making)

Small and lightweight

100% usable charge without degradation of battery

No "dangerous goods" transport restrictions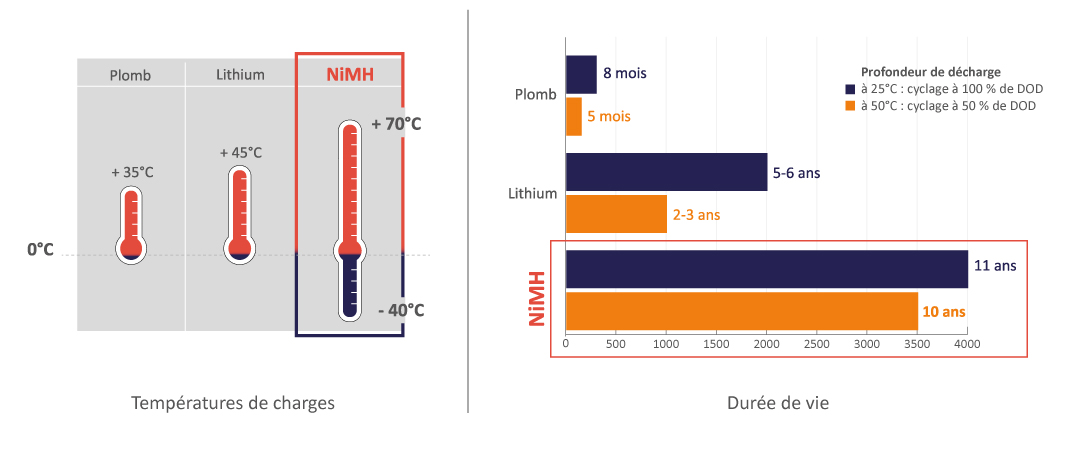 Smart solar energy management

As well as a battery, the Power 365 features smart technology and an on-board communication system that offers:
Smart energy management for scheduling and optimising storage.

Twilight detection.

Software for analysing solar irradiation all around the world.

A thermal regulation system guarantees its longevity.

Anti-blackout safety device (outages are an impossibility).

Remote monitoring, with the possibility of geolocation and monitoring.
POWER365: Unique technology developed in house
POWER365 was created by those who believe in Fonroche Lighting's values and in the plan to make lighting the world a possibility thanks to the inexhaustible energy of the sun. Today, all the skills associated with POWER365 are in-house at Fonroche Lighting, through a team of multidisciplinary experts from leading French and global industrial companies.
Fonroche Lighting storage: technicality and expertise 
Being convinced that smart storage is at the heart of our systems, Fonroche Lighting's teams have developed a unique know-how with batteries: life span, reliability, performance and resistance to all climates (humidity, temperature variations etc). Their tests, carried out in our dedicated laboratory equipped with a dozen climatic chambers, allow us to subject our batteries to a wide range of particularly severe climatic environment simulation tests in order to guarantee the reliability and longevity of our systems.