Solar public lighting – an obvious choice for sun-drenched Corsica
Soaring mountain ranges, unspoilt sandy beaches, dense pine forests and picturesque coastal villages... It's easy to see why Corsica is known in France as the "Ile of Beauty". Almost half of the island's varied landscapes are classified as natural parkland, and its Mediterranean climate brings record hours of sunshine, making it the ideal candidates for solar street lighting. Our local partner Alta Rocca is working hand-in-hand with Fonroche Lighting's Design Office on several projects to meet the specific needs and requirements of the island's population.
Corsica: natural home territory for solar lighting
Design Office plays key role in projects
Fonroche is delivering its solutions through a growing number of solar lighting projects across France, thanks largely to the hard work and professionalism of our sales agents and Design Office teams. At the start of every project, a solar survey is carried out to determine how many streetlights are needed, what the best configuration is, and which products will provide optimum lighting. The result is an almost lifelike simulation of the planned installation, fully aligned with the needs of the site and taking account of local ground and climatic conditions.
In northern Corsica, our partner Alta Rocca furnished a small residential complex (La Maddalena) in Vescovato with eight Fonroche solar streetlights in partnership with Solaire Corse. The project is a stunning success: the residents now enjoy high-performance, uniform street lighting every night of the year.
Protecting Corsica's landscapes with solar lighting
Because of its minimum impact on the environment, solar lighting is particularly well suited to making the roads and streets of Corsica safer. Unlike grid-connected networks, no earthwork or trenches are needed, installation is quick and easy and suitable for all types of terrain. The town of Zonza in southern Corsica chose Fonroche solar streetlights for its mountain roads. The authorities are so delighted with the lights' excellent performance that they're planning more projects.
In the southwest of the island, the car park at Cupabia Beach has been equipped with solar streetlights to ensure safe access day and night.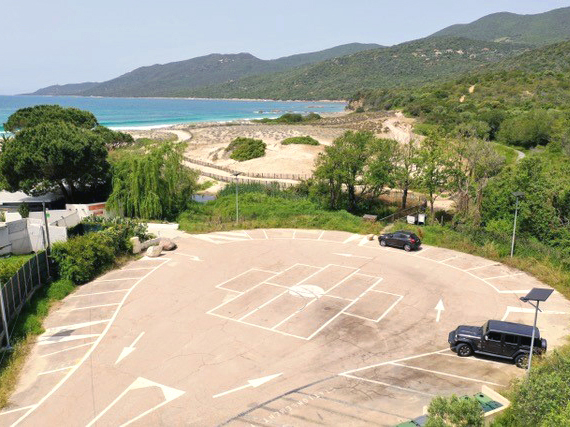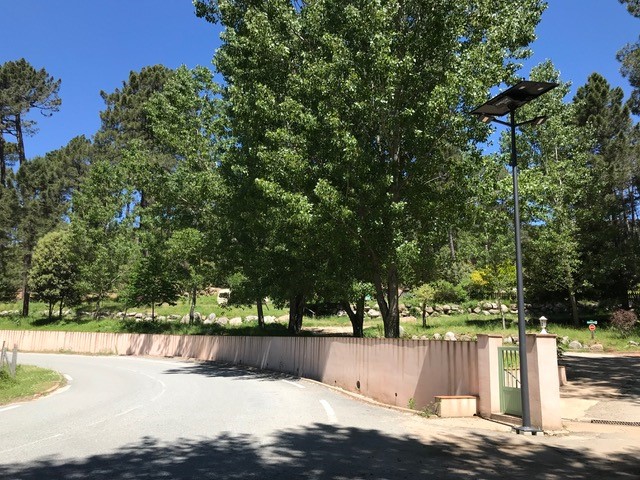 Off-grid lighting meets the needs of Mediterranean islands
Off-grid solar street lighting is a sustainable solution for streets and roads across the Mediterranean region, and especially the numerous islands scattered around the sea. As well as being largely reliant on fossil fuels, the electricity grids that cover the islands tend to be prone to sags, surges and outages. Fonroche Lighting's off-grid solar lighting technology works without grid power, providing light effectively without the risk of outages. Recognised for being robust and reliable, these French-made lights also deliver effective, stable lighting, making them a viable alternative for isolated areas with weak power grids.