Five reasons to choose solar public lighting
You may have noticed in your local residential area, or while driving to work or parking at the supermarket — solar public lighting is gaining ground.
The many benefits are clear to see. But specifically, why choose solar? We give you five reasons why it's the solution of choice for all your projects.
1) Solar public lighting is more cost-effective than grid-connected lighting.
The need for better, more extensive public lighting in our lives isn't in question. However, raising living standards and improving safety for users comes at a price, which has a huge impact on electricity bills for local authorities and private companies alike.
Did you know, you can reduce these costs by switching to solar lighting? Completely self-contained operation, with no grid connection needed — that's the way to efficiently reduce your consumption and bills.
2) Quick and easy installation, immediate illumination.
New fit or upgrade, a solar streetlight is up and running in under two hours.
Solar public lighting is easy to install. It doesn't require any civil engineering work, because it's completely off-grid. It's ideal for remote, hard-to-reach locations, as well as flood-prone areas, and it allows people to go about their business in safety.
No trenches, no cables, with bright light from the first night. What more could you ask?
3) Shrink your carbon footprint with solar.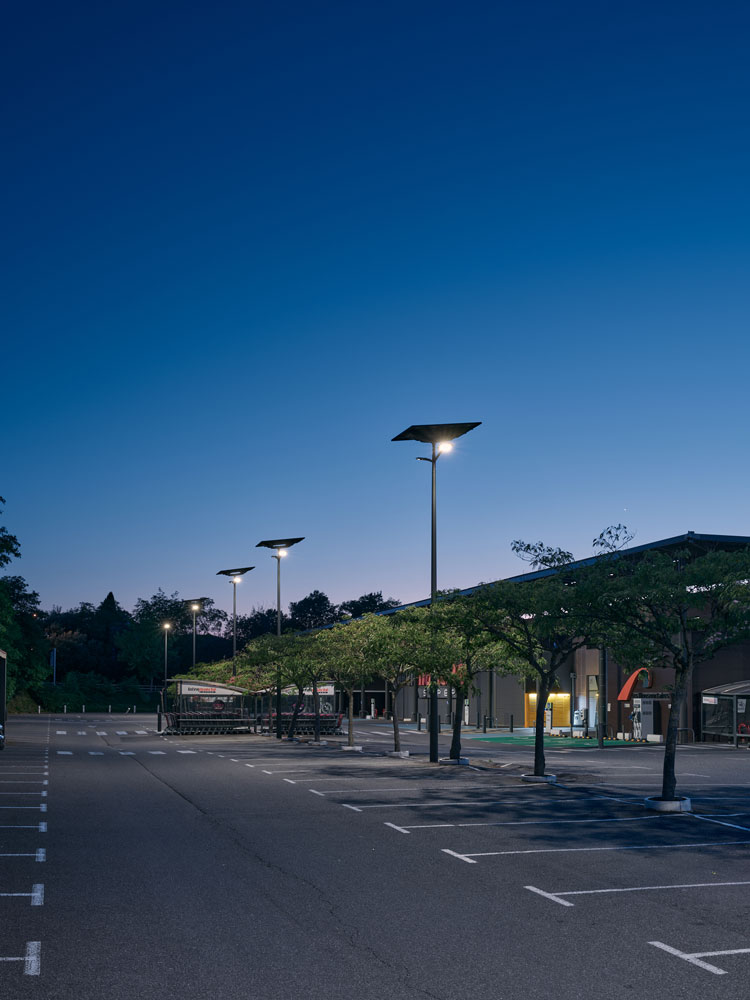 To reach net zero by 2050, we must all make the energy transition in every way we can — and that includes public lighting. Here in France, for example, the ELAN housing reform law calls for actions to cut the energy consumption of buildings used in the services sector from 2020.
In response, many retailers have reduced their energy consumption by installing solar streetlights in their parking lots. In 2021, Fonroche Lighting — the leader in this sector — provided lighting solutions for over 100 stores, saving 94 tonnes of CO2.
At the same time, more than 3,000 local authorities in Europe have showed their commitment to the environment by choosing our green, sustainable lighting solution.
4) 365 nights of light a year — guaranteed.
Did you know? One of the reasons customers choose our solar lighting is its unfailing dependability. With its smart energy management system and built-in blackout protection, our solution delivers year-round lighting performance, with no risk of outages. It's optimally designed to capture and store the Sun's energy during the day, then provide lighting after sundown, just when it's needed. This ensures there's always enough energy to power the light unit.
Plus, you can program multiple lighting phases with variable levels of illumination. This means you can tailor the solution to each zone and the needs and lifestyles of local populations.
What's more, our streetlights are designed to withstand extreme temperatures (–40°C to +70°C) and high wind loads (EN40 compliant).
5) Solar is the new standard.
As you can see, solar streetlights offer many advantages over their grid-connected equivalents and have gained a lot of ground in recent years. Our dependable, durable technology makes it the solution of choice for public lighting now and in the future. There's no doubt about it: solar is the new standard!