How to recycle solar street lighting?
Solar street lighting is an eco-friendly alternative that enhances safety and security with a reduced carbon footprint. Operating entirely off-grid, it's the ideal solution for cities keen to drive the energy transition.
In this feature, we address the issue of recycling solar street lights.
1) Recycling a photovoltaic panel
The photovoltaic (PV) panels on the market since the 1990s are often singled out as being hard to recycle. But are they?
First of all, there are PV panels that generate electricity and those that generate heat. The PV panel atop a streetlight captures energy from the Sun and converts it into electricity to power an LED unit.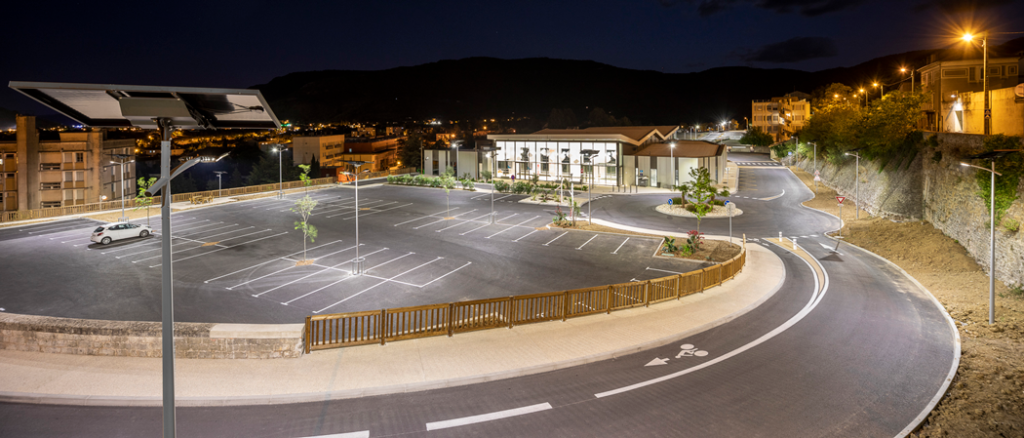 A high-performance panel has a service life of more than 30 years and is 95% recyclable. It's composed of successive wafers inside an aluminium frame:
Ferrous and non-ferrous metals are recovered and recycled; these include aluminium, which can be reused infinitely.
The glass and the EVA (ethylene vinyl acetate) encapsulant are turned into granules.
PV cells can be reused up to four times.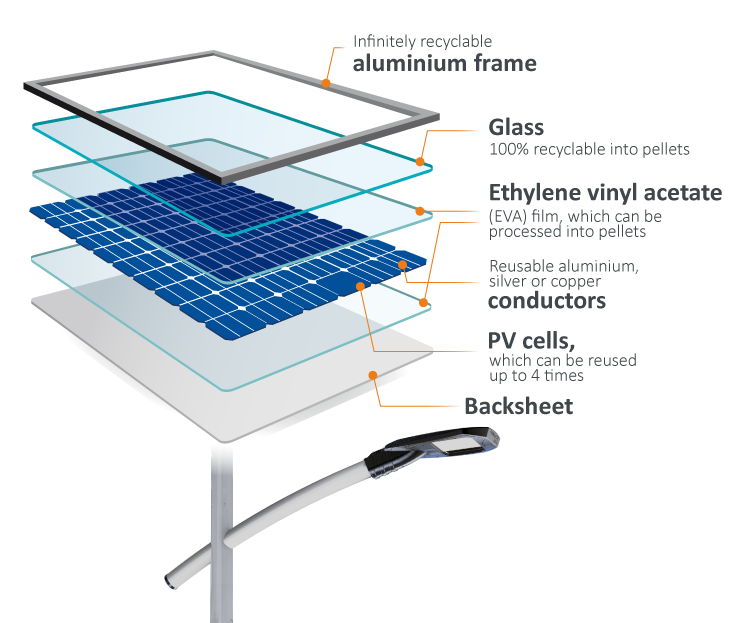 Fonroche Lighting is a member of recycling body PV Cycle. In July 2021, PV Cycle France refocused and changed its named to Soren.
Soren operates a network of voluntary collection points across Europe. It's also present in the United States and Japan, and offers bespoke solutions for firms outside Europe looking to recycle their end-of-life panels.
According to Soren, up to 9.5 million tonnes of PV panels are set to reach the end of their lifespan by 2050. So it's crucial to think about recycling them. With its efficient recycling streams, Europe is ahead of other continents and in particular North America.
Although recycling of PV panels is not regulated in the United States, several bodies have been set up to collect and recycle them.
Among these are Recycle PV Solar, whose facility is in Nevada, and First Solar, which operates recycling centres in the United States, Malaysia and Germany.
2) Power 365 core battery technology
Fonroche Lighting's Power 365 battery technology stores energy from the PV panel and releases it at sunset. Batteries have a lifespan of more than 10 years and are 99% recyclable.
They use NiMH technology that is easier to recycle than lithium batteries. Reusable metals are recovered and recycled, 85% of them nickel-iron, which is used to make steel.
3) What about the LED unit?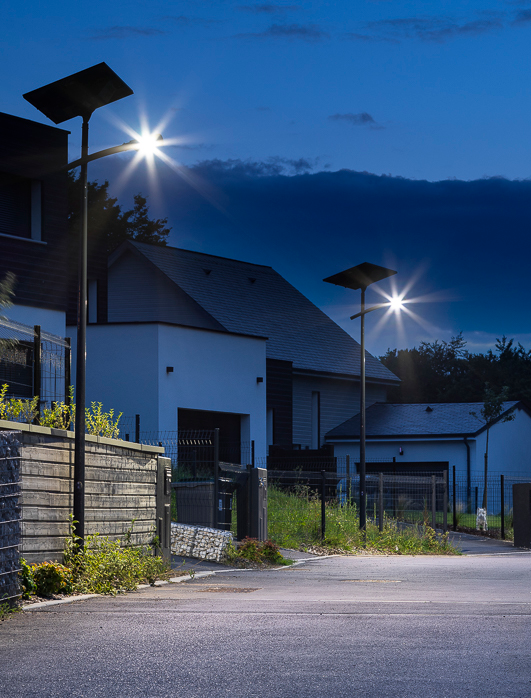 The LED unit offers a durable lighting solution for all types of project, combining low energy consumption with powerful illumination.
Its service life is 20 years. The aluminium housing can be recycled infinitely and contains:
A heat sink, also made of aluminium and 100% recyclable
A circuit board recycled by Ecosystem
Diodes, semiconductors, transformers and other routinely recycled electronic components
A polycarbonate lens that's easily recycled and reused
Choosing solar public lighting is a commitment to preserving the planet, which is why Fonroche Lighting has devised a reliable and sustainable solution that's easy to recycle. We've already installed more than 100,000 of our solar streetlights around the globe — taking the energy transition one step further.