Innovation in street lighting: the fusion of solar power and smart technology
Innovation and technological development are at the heart of our society, and increasingly connected cities are constantly seeking intelligent innovations to bring safety, comfort and service to their citizens. This development is taking place at a time when environmental concerns are becoming increasingly important, both for the French and for the younger generation.
The urban solar lighting solution offers an eco-responsible, sustainable and efficient approach, thanks to savings and intelligent management of electrical energy. This new high-performance technology is revolutionizing the public lighting sector, opening the way to a wide range of possible applications, whether in public spaces, buildings or urban infrastructures. The challenge is no longer simply to light up our communities, but to respond to these new urban opportunities.
It's not just about illuminating cities, but also about lighting urban spaces in a more sustainable way, thanks in particular to solar energy and photovoltaic panels. Solar lighting embodies a major evolution in the public lighting sector, combining an ecological approach known as "green lighting" with high-level performance.
In this article, we'll look at how Smartlighting directly addresses these concerns, and we invite you to discover our article: Why opt for solar street lighting?
Solar street lamps: an innovation for today's and tomorrow's society
The constant quest for innovation is omnipresent, all the more so as there is a real desire to move towards and live in a smarter, more connected and cleaner city: the "smart city". Street lighting is innovating on a global scale, and is now adapting to these multiple challenges by combining savings, safety and environmental protection with solar solutions.  
One of the first dimensions of this innovation is the major savings it generates. As solar streetlights are self-sufficient, they require virtually no upkeep and maintenance, and eliminate the cost of connecting them to the grid. By adopting a more efficient lighting technology, communities can reduce their energy consumption and, consequently, the associated costs. Lighting that uses solar energy to power streetlights not only reduces energy bills, but also makes a significant contribution to reducing carbon emissions: 56% less emissions than grid lighting.
Innovation in street lighting not only generates savings, it also embodies an eco-responsible approach. By harnessing a renewable energy source and promoting long-term sustainability, solar lighting helps preserve our planet and our environment. What's more, solar-powered streetlights are also designed to withstand weather and temperature variations, minimizing the need for frequent replacement, servicing and maintenance.
As well as being economical and eco-responsible, the intelligent streetlight is also connected. Its ease of installation also helps to promote access to lighting in many developing countries. An innovation in itself, given that some regions of the world have no access to light. Solar solutions are thus becoming a revolution in terms of safety in certain countries.
Smartlighting, an idea of genius?
Smartlighting is a new approach to solar-powered street lighting, and is part of a modernist approach that also helps to reduce the energy footprint. But first, what does it really mean? Smartlighting is a system designed to improve energy efficiency in a connected, intelligent way.  
What sets this technology apart from conventional lighting systems is its ability to light in a different, adaptive way, using light control modules that take into account the presence of users, color, and environmental conditions. This innovative technical design makes every street, every area, every outdoor space unique. This technical concept offers a wide range of choices in terms of design, performance and energy savings to suit every project.
Another remarkable aspect of Smartlighting is its ability to integrate fully automated control and monitoring systems. Using digital sensors and advanced management systems, it optimizes light distribution according to need, creating a unique visual experience while reducing energy consumption to a minimum. This approach revolutionizes the way urban lighting is managed, transforming it from a static system into a dynamic, intelligent infrastructure powered largely by photovoltaic energy.
Solar street lamps and smart technology: a love story at Fonroche Lighting
In 2015, our Research & Development teams designed Power365 technology, a battery for intelligent energy storage and management. The battery system chosen, NiMH, offers greater resistance in terms of charging temperature and service life. In fact, this battery technology can withstand the most extreme temperatures (-40 to +70°C), and has a service life of 10 to 12 years.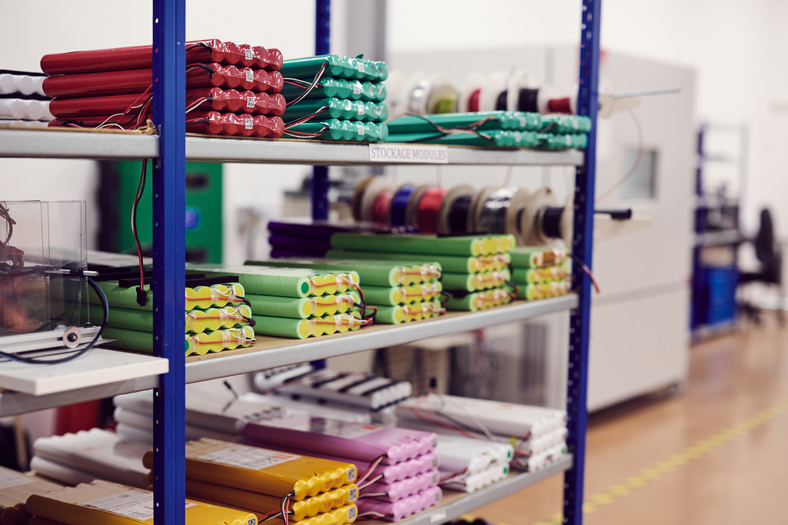 Equipped with a custom-developed BMS (on-board battery management system), the Power365 optimizes energy storage by means of a thermal regulation system to guarantee longevity, twilight detection and programmable operating ranges. It also includes software for analyzing solar irradiance at any point on the globe.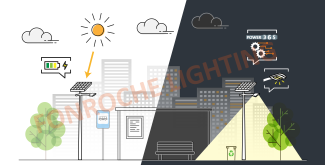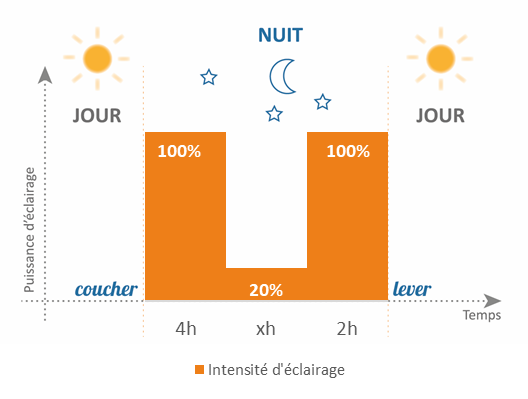 This innovative technology enables us to guarantee lighting 365 nights a year.  
The Power365 battery adapts to all types of environment, temperatures and projects. An innovation, yes! but recyclable. Our battery has a 99% recyclability rate, thanks to NiMH technology. Our storage systems are then taken in charge and recycled by SNAM, a company specialized in the collection and recycling of batteries.