Cameroon: Fonroche delivers training in streetlight installation
In Bertoua, capital of Cameroon's eastern region, 460 Fonroche solar streetlights were recently installed to improve living standards for local people and help boost socioeconomic activity. After choosing our lighting solution for a street in the capital Yaoundé last year, Cameroon is pursuing its urban development programme with cost-effective off-grid streetlights, which are unaffected by local power outages from the country's unstable grid. Pauline, an expert solar lighting engineer, and Thibaud, an expert technician, travelled to the project site a few weeks ago to provide training for the installation teams and pass on their know-how.
Solar boosts Cameroon's socioeconomic life
No lighting outages with solar!
Bertoua is one of Cameroon's urban areas that has benefited from a priority investment programme led by the French Development Agency (AFD) as part of the "regional capitals" project to boost socioeconomic growth in the country's major regional cities. Initiatives include construction of a hydroelectric dam at Lom Pangar, just 90 kilometres (56 mi) north of Bertoua.
However, this investment hasn't been enough to solve the problem of power outages, which happen regularly in the region, hindering social and economic activity later in the day and making people feel unsafe. Solar lighting is the solution of choice for this developing region because it's entirely off-grid and provides 365 nights of guaranteed lighting a year, with no outages. A total of 460 streetlights have been installed in Bertoua.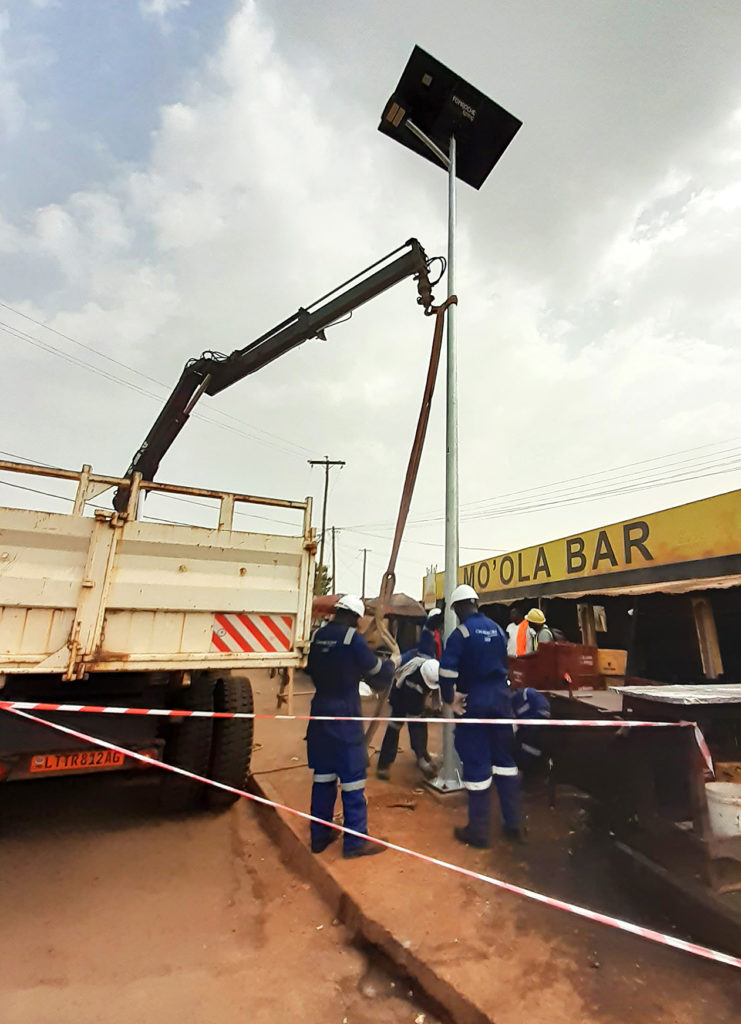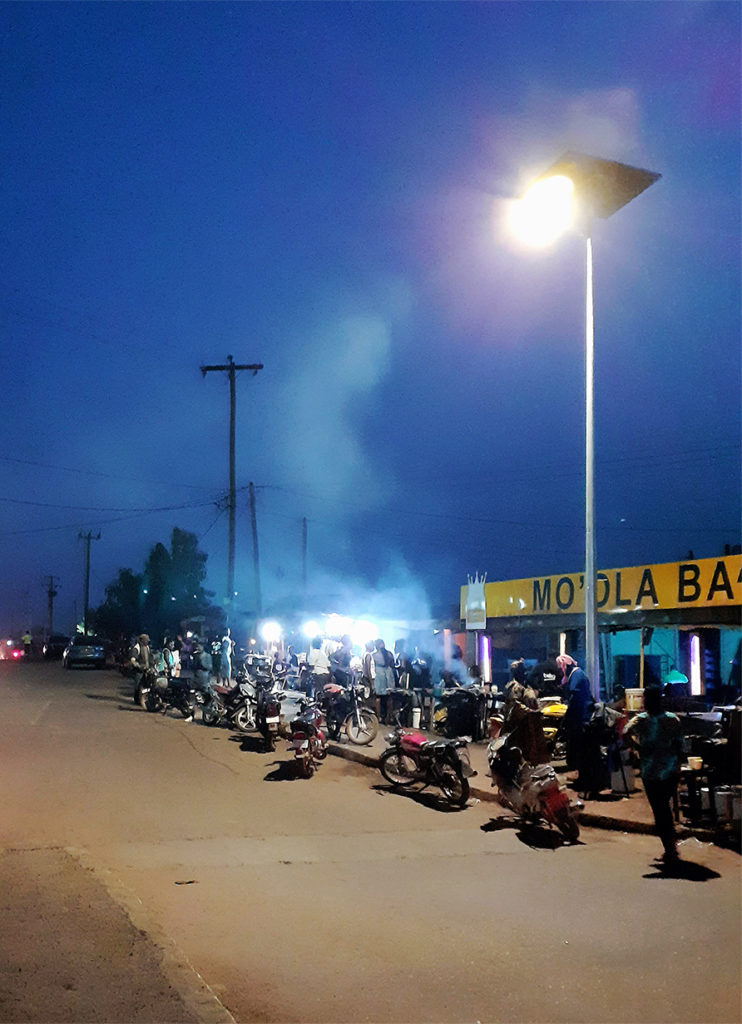 A major contributor to safety and security
Effective streetlighting makes it safer for local people to travel after dark. It also improves road safety for goods vehicles, especially for the local logging industry. The city's economy is largely dependent on forestry and the timber trade, thanks to its geographic location. Solar streetlights are now playing a key role in improving living standards in Bertoua and making the city a safer place.
Expertise backed by customer support
Two years ago, Pauline joined Fonroche's design office, where she was in charge of solar and photometric studies for international projects. In early 2021, she changed roles and now has much more direct contact with customers and regularly travels to local project sites. As an expert solar lighting engineer, she works on the more complex projects, with large numbers of lighting points or more specific, non-standard customer requirements.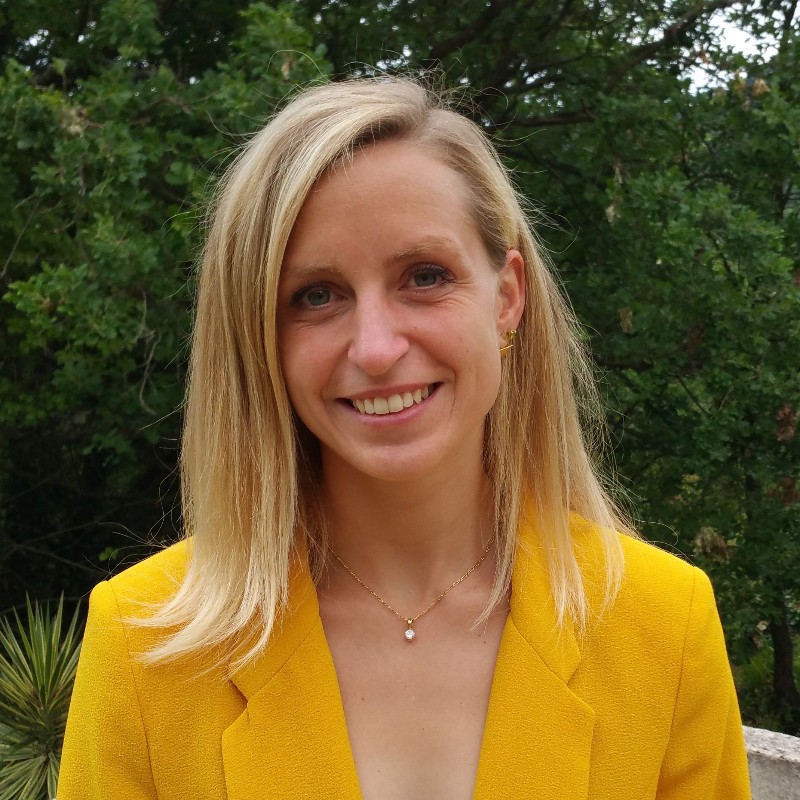 Pauline is the main point of contact for customers and coordinates all interaction with Fonroche Lighting's R&D, marketing, sales and supply chain teams to ensure every project runs smoothly and efficiently. "Engaging with customers is important, whether locally or via videoconference," she says. "A relationship is formed, and we're on hand to reassure customers, keep them informed and provide technical support. The company is keen to send a design office expert to the local site, including before a project starts to set up the necessary studies."
Local hands-on involvement
In April 2021, Pauline went to Bertoua with Thibaud, an expert technician at Fonroche Lighting, to help deliver training for the installation teams. The project involved several hundred lighting points and support for the installation phase, with classroom theory and practical training. For Pauline, it was a chance to visit the local site for a project she had overseen right from initial technical specifications through to installation.
During the training week, Pauline met the customer in person to inspect the concrete blocks already laid, which serve as the foundation for the poles. Together, they also decided on the locations for the last few streetlights, based on the issues and constraints on the ground.
As part of the theory delivered by Thibaud, she explained to the local installation teams how off-grid streetlights work. This was followed by the practical stage, which involved physically assembling and installing streetlights at the site.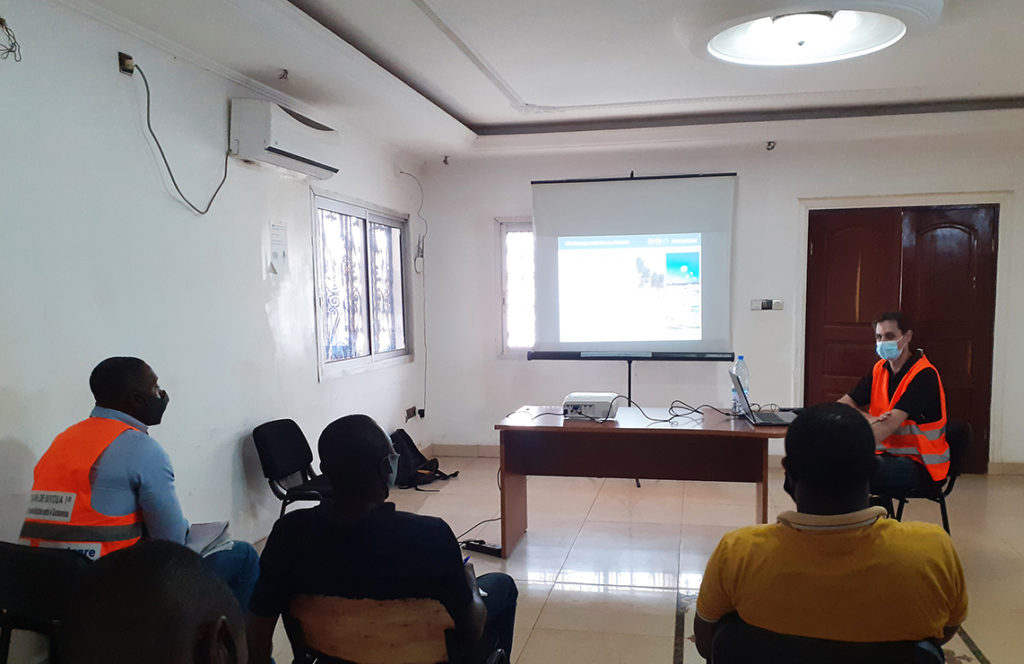 In total, some 15 installers took part in this two-part training course, which readied them to work independently. Technicians at Bertoua city council also receive training so they can perform initial maintenance, once the streetlights are up and running.
"The purpose of the training is to ensure they can work independently when we leave," says Pauline. "The teams really engaged and asked all the right questions."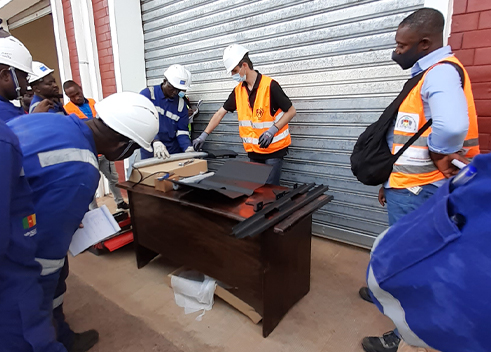 This one-week assignment in Cameroon was a real opportunity for Pauline to appreciate the issues and complexities on the ground, as each project is unique and requires slightly different skills: "Visiting the local site helps you understand the working methods and constraints in the country. It's also a chance to meet the customer. It's a rewarding experience and builds on the more technical work performed by the design office."
Sources (French) :
- https://www.afd.fr/fr/carte-des-projets/promouvoir-le-developpement-urbain-des-capitales-regionales-camerounaises
- https://www.lemonde.fr/afrique/article/2016/12/02/lom-pangar-le-barrage-qui-va-doper-le-potentiel-hydraulique-du-cameroun_5042554_3212.html